You leave this world and become a dream
Our dear friend Mary left us today, Mardi Gras, February 16, 2010.  She had fought with cancer for years, kicking its ass repeatedly, but in the end it was too much.  I suppose it's part of the human condition, but I have lost too many friends.  Today I am numb and deeply weary.
Mary loved New Orleans.  She loved the city so much that she bought a house there.  In Frommer's New Orleans, which she wrote passionately and updated faithfully, she said:
This is one of the few cities in America (if not the only one) where you do not feel as if you are in America.  It may sound cliched to call New Orleans magical and seductive, but it happens to be the truth.  Every one of your senses will be engaged from the moment you arrive here.  The city is a visual delight, from the lacy ironwork wrapped around the buildings of the French Quarter to the stately, gracious old homes of the Garden District to the giant oaks that stretch across Esplanade Avenue or drip with ghostly Spanish moss in City Park.  But to just call New Orleans picturesque is not doing it justice.  Music flows from every doorway or is played right in the street.  Jazz, Cajun, blues, whatever–you'll find yourself moving to a rhythm and wondering if the streets really are dancing along with you.  There are delicious smells in the moist, honeyed air, which seems to carry a whiff of the Carribean while caressing your skin, almost as if it were alive.
New Orleans will always and forever be inseparable in my mind from her deep and abiding love for the place.
Mary loved to read.  For Christmas she gave me a copy of The Collected Stories of Lydia Davis.  I confessed that I had never heard of Lydia Davis, and she confessed that neither had she, but she had it on good authority that I as a lover of short stories must read these, as they were nothing short of the form's perfection.  I have still read only just a handful of the stories, and I never had the chance to tell her that I find them oddly, weirdly brilliant, and that rather than sinking into me they seem to stick on my surface.  I'm sure she would have looked at me, sideways and penetrating, and said, "Hmmm," by which she invariably meant, "That is fascinating, and I'm so very glad you told me.  You must tell me more."
Mary loved to ponder and think.  She recently recommended to me and her friend Quinn another book, this one called Sum: Forty Tales from the Afterlives, by David Eagleman, a collection (as one might well surmise) of stories exploring forty different, intriguing, hypothetical afterlives.  She said in email, regarding the story after which the collection is named,
In [the afterlife described in] the first story, "all the moments [of your life] that share a quality are grouped together."

This one is haunting me.  This is the problem with conventional views of the afterlife, why someone as saintly as John Cobb says he hopes his adventure as John Cobb will one day come to an end.  Otherwise, can you imagine the boredom and tedium?

Not when you two are there, of course.
I'm certain this contemplation sprang from, or was rooted in the same philosophical soil as, her passionate exploration of The Likelihood (or Unlikelihood) of Things Eternal.  On February 13, three days ago, she was granted her Master's degree in Theology and Philosophy of Religion at a special ceremony in her home, surrounded by her professors and fellow students from what she loved to call God School.  Her husband Steve said,
…at the crux of her extemporaneous speech was that as she progressed through her studies people would ask, "So what's your position on God?"  And she would reply, "I haven't got one."  And she stressed that she holds to that today.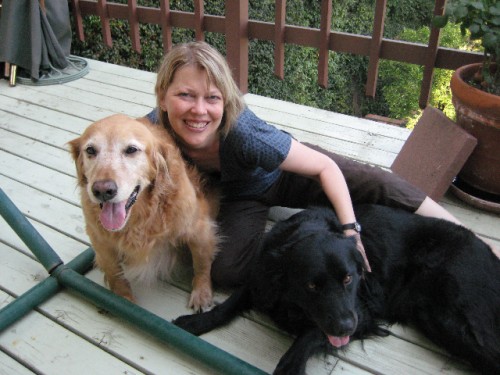 Mary loved her dogs, her family and friends, and — first, foremost and always — Steve.  I can't imagine what any of us will do without her.  The world is already a poorer place without her in it.
Mary, rest.