What are you doing New Year's Eve?
[NOTE: Cinnabar, alas, closed in 2005. She is sorely missed.]
Well, what we did, to answer Ella Fitzgerald's musical question, was go to Cinnabar.
Wes and I went with our friends Chris and MJ to our favorite local restaurant's annual end of the year bash, featuring a multi-course prix-fixe dinner, a jazz combo, hats and noisemakers, bubbly and a steady flow of cocktails from their renowned cocktailian bar.
As Cinnabar is one of those rare places where you can get a really good cocktail, we made certain to hit the bar first. As I may have mentioned before, their bar (including the back bar) was rescued from the late, lameneted Yee Mee Loo bar in Downtown L.A., which was bought up and scheduled for demolition about 14 years ago (then sadly sat derelict because the raze-and-build-condos plan didn't come off quite like the developers planned). It's gorgeous, and there are always fun and interesting people around it. Behind the stick was Eric, the new bartender hired to replace our pal Bob, their longtime weekend bartender who left to go back to school. We're still keeping an eye on Eric — really nice guy who made us spectacular Booker's Old Fashioneds, but something was a little off with that Negroni I had later. Next time I'll have to ask him how he makes it, because Cinnabar is famous for their own take on the Negroni (basically doubling the Campari and adding orange bitters), a take we've become particularly fond of:
The Cinnabar Negroni

2 ounces Campari.
1 ounce gin.
1 ounce sweet vermouth.
2 dashes orange bitters.

Shake and strain; orange wheel garnish.
This is a big, delicious, bitter slap upside the head, in the best possible way. Wake up that palate and get it ready for some food!
We caused a bit of a ruckus when it became apparent that no one had remembered to notify the restaurant that one of our party was a vegetarian ("I keel you!", said co-owner Flame, with much justification), but Chef Damon came through beautifully, and our vegetarian didn't go hungry (although we probably could have gotten more of a planned menu if we had remembered to call … oh well).
Here was the menu I chose:
Amuse Bouche:
Sevruga Caviar on a Crispy Potato Lollypop, with Lemon Crème Fraîche. A thin slice of potato, stuck on a lollypop stick and fried crisp until it's like a thick chip … whimsical! Plopped on the side was the dollop of crème fraîche and the caviar.
Appetizers:
1. Foie Gras Terrine with Lemon Pear Compote. Just say "foie gras" to me and I'm all over it. About a 3/8″ slice of terrine, which went well with the sweet compote. It was gone very, very quickly.)
2. Dungeness Crab Cake in Shredded Phyllo with Avocado Vinaigrette. This was one of the highlights of the meal. It looked gorgeous, like a bird's nest or some kind of chrysalis, sitting in a pool of thick, green, spicy vinaigrette. The crab cake was wrapped in the shredded phyllo and quickly deep-fried, but was light and crisp and without the slightest trace of oiliness. The sweet crabmeat and the spicy vinaigrette were perfect together.
Intermezzo:
Lychee Sorbet, served in a Champagne flute. This was wonderful, not too sweet and a perfect palate cleanser. I lucked out, as Wes and MJ were served a raspberry sorbet (" … the kiiind you find in a second-hand store" … um … sorry) which was good but not as good as the lychee.)
Main course:
Filet Mignon and Foie Gras wrapped in Phyllo with a Ruby Port Glaze. Okay, there's a bit of a motif here … I was going for foie gras all around, having chosen this entrée instead of the Roasted Maine Lobster Tail with Tarragon Hollandaise and the Macadamia-Crusted Turbot with Lime Leaf Butter and a Rock Shrimp Spring Roll, so I ended up doubling up on the phyllo as well. No worries; how often do I get to eat phyllo anyway? This was solid, not shredded, and the dish was like an upscale Beef Wellington. The filet was perfect; tender and medium rare. On top inside the pastry was a luxurious level of richnessa added from the slice of foie gras, and the tart Port sauce cut right through all that richness with a fruity tang. I so rarely eat filet that this was a real treat. I washed it down with a glass of the house Bordeaux, which I forgot to write down.
Dessert:
Ginger Macadamia Nut Cake with Citrus Chocolate Mousse and Chocolate Sauce. The other choice was a mixed berry mini-cheesecake with a berry coulis, which I'm sure was good, but … jeez, in the face of this other choice, who in the world would order it?! We did see someone at the next table who had one, and I imagined him to be some kind of chocolate hater whom I regarded with a mixture of contempt and pity. This dessert was out of this world — rich rich rich without being overwhelming, with the touch of spiciness from the ginger keeping the richness in check. I looked both ways and wiped up the chocolate sauce with my finger when no one was looking.)
We were having such a good time that I didn't even think to take pictures of the dishes (duh) until the dessert arrived, even though I had meant to shoot the entire meal. Ah well. If my mind weren't so absent and if my camera weren't so clunky, I'd probably manage to do it. I'll have to work on at least one of those this year. Anyway, here's dessert: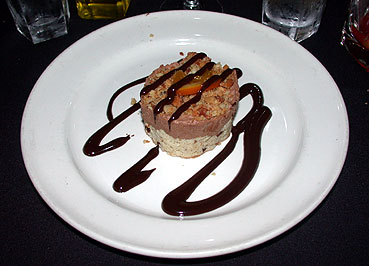 It tasted even better than it looks.
Then came party hats, noisemakers, bubbly and FIVE! FOUR! THREE! TWO! ONE! HAPPY NEW YEAR!! (*hoooooooonk*) Hugs, kisses, Auld Lang Syne.
It was a really fun way to spend New Year's, and we'll probably do it again. To cap it all off, they weren't in a hurry to get rid of everybody, so we hung out for another hour or so and sobered up enough to drive home safely. Now I've gotta spend the next week eating rabbit food to make up for all that foie gras …