Mixology Monday XLI: Vodka
August 10, 2009
Chuck
cocktails
Comments Off

on Mixology Monday XLI: Vodka
Vodka. The Rodney Dangerfield of spirits.
That's our theme this month for Mixology Monday XLI, hosted by Amelia at Felicia's Speakeasy. Actually, to be specific, the theme is …"Vodka is Your Friend."
What? C'mon, let's not get hasty here. Then again, as she said, "The recent high profile bashings of vodkainterspersed with a few weak "yeah, buts…" left me wondering, is vodka the axis of evil, our most dangerous enemy? While it may not be the life of the party, experts agree: Vodka's obituary does not have to be written just yet. Vodka can be a "safer" spirit for those who can't be convinced to take risks. Vodka also offers a Zen-like simplicity. Because it is relatively flavorless, using vodka as a base of a cocktail means you get to start with a blank chalkboard. Beginner's mind. What flavor would you like to be today?"
Sure, good points all. Haven't we made progress, though, in getting the public to drink more adventurous spirits? Yes, but it's still the best-selling spirit in the United States, although its hold on the market isn't as strong as it once was. Perhaps the "I don't get no respect, no respect at all" attitude from multitudes of bartenders and cocktail geeks for the last several years might have made an impact. There is the little detail that it doesn't really taste like anything, and quotes like the one from Audrey Saunders I've always liked: "A vodka cocktail is a cocktail with a hole in it."
But true confessions time … I had my vodka period. I had my infused vodka period. I had my time back in the '90s when I drank … Cosmopolitans. I've come a long way since then — so have many of us. We scoff at the vodka & tonic drinkers who drink it just to get a buzz, and specifically because it doesn't taste like anything (leaving less telltale traces on their breath). We scoff, we snort, we p'shaw.
But vodka has its uses, and we all know it.
Okay, there's the "I only use vodka for making tinctures and preserving syrups," which I admit saying. Then again, there's … Moscow Mules! C'mon! Who doesn't love a Moscow Mule? It's summery, it's refreshing, and you get to drink out of those cool copper mugs, if you have any (vintage ones are usually readily available on eBay). One of the first vodka cocktails I thought of when I started to think about this topic was one I had learned from Dave Wondrich in his book Esquire Drinks, which is the Gypsy cocktail. Paul Clarke wrote about that one at length for his MxMo post today, how vodka can be used to soften and stretch a liqueur as the primary flavor component of a cocktail (and the Gypsy's a damned fine one).
Although some of us may look down at flavored vodkas or cocktails based on them, there are lots of excellent flavored vodkas out there. (Lots of crappy ones too, so caveat emptor.) To name two, the products from Hangar One and Modern Spirits are outstanding. Flavored vodkas have a long tradition in eastern Europe, from homemade infusions to more commercialized products like the Stolichnaya line. My absolute favorite of those, though, my favorite vodka and perhaps one of my favorite spirits, is Żubrówka.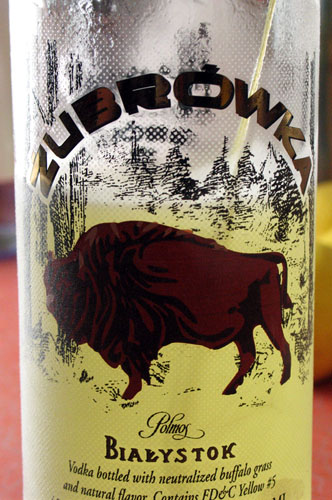 Or "bison grass vodka", which is perhaps a bit easier to pronounce than "zhu-BROOV-ka". I had first heard about it from Dr. Cocktail about six years ago, and although I'd been meaning to try it for a while I'd never quite gotten around to it. Then our good friends Gregg and Mike had brought us some back from Paris, but the bottle sat there for a while. It's the classic traditional Polish vodka, infused with native bison grass, which gives it an extremely distinctive flavor and straw-green color. Doc had been singing the praises of it for ages, while telling us the American brands have been artificially flavored for a while. Bison grass contains coumarin, a substance with anticoagulant properties that's also responsible for much of its flavor, but the FDA bans it as a food additive in this country, and it hasn't been legally imported since 1978. There was no Żubrówka at all in this country for two decades, until it was allowed back in 1999 when Polish producers figured out a way to come close to the flavor of the real thing while "neutralizing" the coumarin in the bison grass.
Waiting for an occasion, I suppose, we still hadn't cracked open the bottle of Żubrówka that had been in our freezer since the boys brought it from Paris, but opportunity presented itself for a taste in November of '04. We had dinner at Warszawa, the excellent Polish restaurant in Santa Monica, before heading to McCabe's to see the Savoy Family Band play. It had been years since I'd been, and it was even better than I remember — bacon wrapped plums, crispy potato pancakes, grilled kielbasa sausages, pierogis of every description, beef stroganoff, thick pea soup with smoked ham and marjoram, smoked fish salad with dill … and Żubrówka! There it was, listed on the spirits menu, and what better time to try it than before a Polish meal. It arrived in a little vodka glass, ice cold right from the freezer.
I know a true Pole would scoff at me, but instead of knocking the whole thing back, I took a healthy sip first, as I wanted to savor it and get the entirety of the aroma and flavor.
Oh, my.
I instantly fell in love with this stuff. Spicy, yet almost sweet but not syrupy like a liqueur; paradoxically, it was dry yet reminded me of candy — traces of caramel and nougat and vanilla. It also tasted like green herbs, but not medicinal. I tasted flowers, and lemon, and even coconut (!), and so many things going on in there. This stuff's dangerous. I immediately wanted more.
I've never read Somerset Maugham's The Razor's Edge, but in it one character describes the flavor of Żubrówka as smelling of "freshly mown hay and spring flowers, of thyme and lavender, and it's soft on the palate and so comfortable, it's like listening to music by moonlight." I can dig it.
After enjoying our Polish meal and two-plus hours of the finest Cajun music to be heard, the very first thing we did when we got home was to crack open our bottle of authentic Polish Żubrówka. The difference between the domestic Polish and European version and the type produced for export to America is that the most authentic Żubrówka has a long blade of bison grass in the bottle, and some American versions don't due to USDA regulations. There's a bit of artificial coloring and probably at least some artificial flavoring in the form of neutralized extracts to avoid the coumarin problem (at least one website claims that "true" bison grass vodka is now legal in all 50 states). The French bottling, which we had, looked like this.
It was goooooood. It was … well, it was like the stuff we had at the restaurant, only a bit more complex, certainly subtler. It was great. Unfortunately we ran out of that stuff pretty quickly once it was opened, and barring more trips to Paris or expensive shipping from Europe I think that for the time being I'll still be happy with the American-export version.
They say that if you travel to Poland and start drinking with the locals, don't ever try to outdrink them (unless you're Russian, and then only maybe). I'd better be very careful. If I'm in Warszawa or Cracow, drinking with locals, and they bring this stuff out, I'm a dead man … 'cause it's so good I would have no incentive to stop unless I become unconscious.
From what I understand, most if not all Poles would consider the consumption of Żubrówka in a cocktail as being a crime, an offence against decency, utter blasphemy. It's to be consumed ice-cold, alone and quickly. However, there is one major exception …
This drink, which translates from Polish as "apple tart" or "apple pie" and is also sometimes called "Tatanka", appears to be the one exception to the prohibition against mixing Żubrówka with anything else, and seems to be looked upon fondly.
Szarłotka
(pronounced "shar-WOT-ka", I think)
1 ounce Żubrówka (Polish bison grass vodka).
3-4 ounces apple juice.
Lemon wedge.

In a heavy rocks glass, build over ice and stir.
Garnish with the lemon wedge.
This is a fantastic drink. It's sweet, because it's mostly juice, but if you use a good unsweetened one like Martinelli's (or a good fresh-pressed cider, even) you won't mind that a bit. Not only do our friends go mad with joy when they taste Żubrówka, they go even madder when they taste this drink. The flavor combination is wonderful. ("Can I have a pitcher of these?" our friend Gregory asked after his first taste.)
I think the proportions in that drink are pretty flexible — we've had success with 2 parts juice to 1 part vodka. As for other drinks … I've found a few web pages here and there with some other Żubrówka recipes, but most if not all of them look too liqueur-heavy and pretty unappealing. CocktailDB only had two, and one of them looked icky (3/10 Goldschlager, gaah). Contrary to what seems to be Polish popular opinion, I think that Żubrówka would make an excellent cocktail ingredient if used judiciously and carefully. The first one I decided to try is simply a takeoff on the above drink, only made drier and with a little bit more seasoning.
I reduced the juice content and added a complementary-flavored dry spirit, plus two other ingredients that lent some allspice and cinnamon to the flavor profile — they are apple pie spices, after all. It's still a bit on the sweet side, but as all that comes from the juice it's not cloying at all. If you want it drier (and stronger), cut the juice back to 1 ounce and up the brandy a bit. The proportions on this drink are very pliable — tweak them as you will.
I decided not to use a garnish but changed my mind after taking the picture and putting the lights away. I was too lazy to get them out again, so please do add the garnish.
Tatanka No. 2

1-1/4 ounces pure unsweetened apple juice.
3/4 ounce Żubrówka.
3/4 ounce Laird's Bonded Apple Brandy.
1/4 ounce St. Elizabeth's Allspice Dram.
1 dash Fee's Old Fashion Aromatic Bitters.

Combine in a mixing glass with ice and stir for 30 seconds. If you're using unfiltered apple juice that's not clear, feel free to shake instead (10-12 seconds). Strain into a cocktail glass and garnish with a curly lemon twist.
Na zdrowie!