TLC
I love three-ingredient cocktails.
Heck, I love two-ingredient cocktails, but they're a bit rarer. There's just something magical about the alchemy of putting just two or three things together and sipping the results of the alchemy. Plus, on a practical level … well, I do love me the 9- or 10-ingredient tiki cocktails, but I'm not sure I'd want to be knocking them out all night (says the lazy bastard who lives inside me).
When we were hanging out at The Varnish for the Left Coast Libations book release party a couple months ago, guest bartender Anu Apte of Rob Roy in Seattle made one for us and for book co-author Ted Munat that wasn't actually in the book, or on the bar menu that evening. Always willing to try something new (and always agreeing with Wesly when he says, "What the world needs now is more rye cocktails"), I said I was game.
"It's called a 'TLC,'" Anu said. "I came up with it just for Ted." *
"Sounds lovely!" said I. "Does the name stand for the usual?"
"Nope, said she. "'Ted Likes Chartreuse.'"
Marleigh, Wes and me: "Awww!"
She may have come up with it for Ted, but it's also for all the Teeming Millions of us out there who also like (or love) Chartreuse.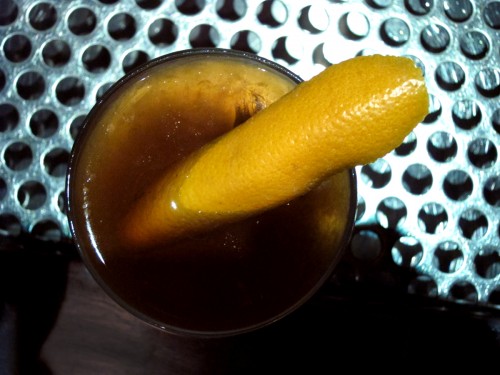 TLC
(by Anu Apte, Rob Roy, Seattle)

2 ounces rye whiskey.
1/2 ounce green Chartreuse.
1/4 ounce apricot liqueur (Apry or Rothman & Winter Orchard Apricot).

Combine with cracked ice, stir for 30 seconds and strain into a chilled cocktail coupe. Garnish with an orange peel.
* – Conversational details which I attempt to recall from a time during which I have been imbibing may not be exactly historically accurate, but it's more or less the gist of it.