Mixology Monday XXXIX: Amaro — The Roundup!
May 20, 2009
Chuck
cocktails
Comments Off

on Mixology Monday XXXIX: Amaro — The Roundup!
Another Mixology Monday has come and gone, and now it's roundup time. Hoo, 35 36 drinks! I had a blast going through these, and now that I've gotten everyone together in one post I feel I can go back through everything again without speed-reading them. Great work all around, y'all — so many great new drinks, plus reminders of classics and old favorites. Let's get going.

Paystyle at Umamimart was the first out the gate, bringing silver tequila (one of my favorite things) together with one of my favorite amari, Ramazzotti, with citrus, honey and herb for the Amaro Twilight, which looks to have a beautiful balance. Getting off to a great start already, and I can already see that my liver's going to go through the wringer trying all of these.

Tiare at A Mountain of Crushed Ice chimes in from Sweden with a drink in which she uses a mint version of Amaro Ramazzotti that I didn't even know existed. Oh dear, that's going to mean more expensive mail-ordering from Europe for me … yay! The Menta Amaro is a simple but terrific-looking digestivo with this unusual amaro plus a bit of one more, given that two is often better than one.

Meaghan at Spirit Me Away offers us two drinks. First, a lovely "desserty" drink combining one of my favorite rums with Ramazzotti (lovin' all the Ramazzotti mixing going on!), coffee liqueur and cream for the Dolce Milano. Next she offers one based on Zwack liqueur, a re-branded lighter version of Unicum, Hungary's national drink and in its original version bitter as all get out. The newer "Zwack" (called "Unicum Next" in Europe" is a bitt less bitter with a cherry charateristic, and she combines that with Bourbon in the Zwack Morris (and was also apparently crushing on cute boys from "Saved by the Bell" back in her school days, apparently!).
Virginia Guilford, with whom I shared a lovely dinner at the home of Bistro 45's chef Damon Bruner and his wife Edith a while back, doesn't have a website of her own but was kind enough to contribute an original cocktail into the comments section. She created a Manhattan variation based on 3 whopping ounces of Woodford Reserve along with Amaro Montenegro, perhaps the gentlest amaro and what I've called a "gateway amaro," good for beginners. This drink has a lovely, gentle herbal flavor with only a touch of bitterness, and knocked us on our butts on Mixology Monday eve. Voilà, the Amaro Manhattan.

Jacob, a Portland bartender who writes at at Liquidity Preference, was inspired by one of my favorite cold evening dessert drinks (hot chocolate with a goodly shot of green Chartreuse) to make Menta e Cioccolato, swapping in Branca Menta. Oh boy, can't wait to try this one too!

Steve and Paul of Cocktail Buzz combined their MxMo drink with their entry for the Monteleone Hotel cocktail contest, striving to have it adopted as the hotel's signature drink while bringing more amaro to the masses. (It's a popular idea — several Montelone entries I've seen, including mine, contain some form of amaro). Cognac and citrus are spiked with a dash of Fernet for the Steve's Monteleone contender.
Fred of Cocktail Virgin Slut wins the award for the most obscure amaro in the roundup, a Spanish product called Mandrágora based on mandrake root. (!) Some of its marketed properties (along the lines of pink elephants and making you a tiger in the sack) might be a bit exaggerated, but still … given that ingredient's well-known magical properties, one has to wonder if the bottle screams when it's pulled from the bar shelf. Fred's offering is the Mandrágoni.

Maria The Bubbly Girl offers one both frothy and fizzy based on Aperol, another great gateway bitter that I love to see cropping up in more and more cocktails. Among many others, her MxMo offering, The Aperol Flip, will be featured in her forthcoming book From The Bubbly Bar: Champagne & Sparkling Wine Cocktails for Every Occasion.

Jeff at Undertaking the Bar found himself rapidly approaching the posting day without a big selection of amari in his bar, and went for what was on hand — our old friend Campari, which seems to be the bitter a lot of us discover first, and one that's more of an aperitivo, slapping your palate to attention before dinner. In the Italian Sunset Jeff uses Campari to lend complexity to Cognac and citrus.

Dinah at Bibulo.us goes right to the jugular of the obscure, with a smoky rhubarb-based amaro called Zucca Rarbarbaro. (Dammit, more expensive bottle shipping from the U.K. for me now, arrggh!) Fortunately she offers advice on how to approximate the flavor with another amaro tarted up with rhubarb bitters and liquid smoke (!), which might have to do for now. Her Walla Cocktail certainly seems worth the effort to either make the replica or find the real deal (and I'm likely to go for the latter, since I'm a "truly comical amaro nerd" too.)

My dear friend Marleigh of SLOSHED! goes for the Cynar, another amaro that never lasts long at our house, and shares with us an original recipe from one of our very favorite bartenders, the charming and talented Vincenzo Marianella. The Norma Jean is an amaro-spiked gin sour that's really terrific. You can sample this and myriad other creations of Vincenzo and his crew at his new bar Copa d'Oro in Santa Monica, a very dangerous mere 7 minutes from my place of employment.

Blair, a.k.a. Trader Tiki, makes me seethe with envy for employing one of my most coveted Italian amari in his collection that has yet to make it into mine — Amaro Nardini. Not only that, but he combines it with two other Italian amari in a nice big chewy base in what looks like a really exciting cocktail I can't wait to try, the Amici Cattivi (Bad Friends … heh). Fortunately Blair's a very good friend, not the least of which for offering us this inky-dark, deliciously evil looking (in the best possible way) cocktail that'll be tops on my list once I get up off my lazy butt and grab me some Nardini.
Blair's also hosting a conribution from his friend and fellow Portland bartender David Shenaut of The Teardrop Lounge, whose drinks I've enjoyed from afar thanks to his generous sharing of recipes. I hope to be warming a barstool in front of him in due time, as we're OVERdue for a visit to Portland. David gives us the most entertaining drink name of the roundup, the tequila-based, Cynar-laced Nevermind the Bollocks with a couple more unusual ingredents I'm now gonna want to find.
Mike from A Dash of Bitters tries one of the newest amari in my own collection, the one in the sexy slender bottle called Amaro Mio from Lorenzo Inga Distillery in Piemonte. Gin, sloe gin and some gorgeous-looking lemon balm come together in the Bitter Wood Cocktail, which might just win today's award for prettiest garnish.

Jay of Oh Gosh! checks in from across the pond with two drinks, one from one of his favorite bartenders and another from one of mine. Although so far I haven't had the chance to see him in his home base of New York, I've gotten to spend some time with Chad Solomon in his visits to Los Angeles and to New Orleans during Tales and to enjoy his drinks as well. Jay shares one of Chad's the we make frequently at home, the Bensonhurst, as well as the other cocktail that got Wes and me tanked on the evening of Mixology Monday. Jay's featured several cocktails from Gonçalo de Sousa Monteiro of Berlin, and his Negroni variation called the Berlioni is a Cynar-y delight.
Craig, a.k.a. Dr. Bamboo, takes us on an exotic journey (and illustrates it with a guy in a blimp with goggles and a big moustache to help us feel the trip) with both Aperol and Cynar and a new (to me) Thai liqueur called Mekhong. I'd seen it in our local spirits emporium and was skeptical, thinking it a new marketing idea from a guy in a suit rather than a spirit that came organically from the culture, but I was wrong. There's some history behind Mekhong — it's been around since 1941. Upon further reading I was fascinated by its base being both cane and rice spirits; its flavor is described as "spicy toffee with citrus and vanilla." Craig rather likes it, and bases his Blimps Over Bangkok with equal parts Mekhong and London dry gin. Sigh, more liquor to buy …

Stevi of Two at the Most, whom I had the pleasure to meet and hang out with on our recent trip to Seattle (the first of many), reaches for one of my very favorite bitters, the Sicilian amaro called Averna (and the first Averna cocktail of the roundup!). This is a mid-range amaro, one to step up to after mastering Aperol or Montenegro, which you will most certainly enjoy as it helps lead you to the hard stuff (like Fernet). Her riff on the French 75 is called the Santo Spirito, a lovely name for a drink.
Now that Stevi has primed the Averna pump, it begins to flow freely. Bruce of World Wide Drinks brings it out for a citrusy fizz whose name is inspired by the biggest event in his hometown, the Indianapolis 500. If you're last in line to qualify and don't have a good enough time, you're "bumped." Ah well, the driver can always console him- or herself with Bruce's citrusy fizz called the Bitter Bump. (No permalink, but you shouldn't have to scroll back too far unless months have gone by as you're reading this …)
My friend Andy at (dr)Ink Gorilla joins MxMo for the first time. Welcome, Andy! Watch out, it's addictive. He offers us a variation on the Fernet Cocktail, varying the bitters and syrup, and winning the award for today's heftiest dose of what's probably the heftiest amaro of them all (at least the ones we see on these shores). This one's for hardcore amaro-lovers.

Amari and other drinking bitters all tend to have a similar formula — alcohol, some combination of herbs, sugar and caramel coloring (with a certain amount of color coming from the herbs themselves). There are of course countless variations in this formula, including the herbs which provide the bitter elements. Christian of Cocktailwelten decided to go for the herbal end rather than the bitter end, and offers us a B&B Collins. Sein Beitrag ist in Deutsch, so unless you read German you'll need to run it through a translator.

Jake the Drinksnob at Liquor is Quicker went for a product I've read about but have yet to try. China Martini ("china" is pronounced "KEE-na") is produced by Martini & Rossi and is a Calisaya-style bitters. Calisaya, china calissaia, cinchona … all different terms for quinine, which is what provides the bitterness here. As I understand it China Martini is a liqueur at 31%, rather than the quinine-infused wines known as quinquina or chinato. I'd love to get my hands on some of this stuff, especially now that I'm inspired by Jake's purported hangover cure (which looks quite tasty) that he calls Il Cane Nero.
Ouroboros at Blotto, the Journal of the North American Booze Council (who sound as if they should be running the country) offers us yet another Portlander concoctaion using not one but two amari. Portland beckons me … I like how they do things up there. I due amari marry rye (because what the world needs now is more rye cocktails) for the Cryptic Memo, which comes to us from Kelley Swenson, the head bartender at Ten 01. (Note to self: Add to list of Portland bars to haunt.)

Nat at The Alpha Cook offers an adaptation of the Black Manhattan, Averna-tinged Manhattan variation she first encountered at Bourbon and Branch in San Francisco. This version takes it a step further, spiced with Nat's own housemade Apple-Clove Bitters. (And yep, you get to learn how to make that, too).


Craig at Colonel Tiki's Drinks offers us his first drink using tequila, and it's a great month to do so — I love how tequila marries with bitter ingredients. He's combined two amari also and some lovely ingredients for yet another that I can't wait to try, the Amaro Amigo. I've got a lovely cinnamon tincture at home (sticks of Indonesian, toasted and soaked in Wray & Nephew Overproof Rum for 3 weeks) that's crying out to go into this drink, yum.

Sonja of North Shore Distillery, who writes at Thinking of Drinking, is the only one to bring out the Amer Picon (yay!) and whips up two variations on a classic near and dear to my heart, the venerable Picon Punch, one of my most beloved bitter tipples, which is also incredibly refreshing. She uses the current version of authentic Amer Picon (the "Club" version, which is intended to be mixed with wine) as well as the American replica Torani Amer, recently reformulated to taste much like the original Amer Picon, before the proof was cut in half and the recipe changed into the Club and Bière versions.
Sam (a.k.a. Vidiot) writes about cocktails at the group blog Cocktailians, where I am also a contributor but feel horribly guilty for not having contributed anything in a while. (Mea culpa, mea culpa, mea maxima culpa … *thump chest* … ow. Believe me, I'm wearing sackcloth in penance as I write (and promise to get my butt in gear and contribute again soon). I feel even guiltier for having foiled his plans to work with rye and mole bitters by posting my own such cocktail early. (I wasn't emitting dastardly laughs, rubbing my hands or twirling my moustache, honestly. I don't even have a moustache.) Fortunately this spiked Sam's creativity and we get yet another lovely cocktail named for a New York neighborhood. The famous borough drinks, plus the Red Hook and Little Italy and Bensonhurst are now joined by The Astoria, with rye (yay!), Ramazzotti and three different fruit bitters by the dash. You knocked that one right out of Shea Stadium, Sam.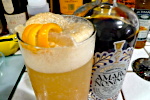 Contending for the final entry at 11:59:50 on Monday night, my friend Chris, an L.A. bartender who also writes about his craft and obsession at Blueprint Cocktail, went nuts with one of my favorites, Amaro Nonino, and had a long night of cocktail-creating fun, offering us three Nonino cocktails — a tangy Friuli Fizz, a chamomile-scented, Nonino-spiked rye sour simply called the Nonino Sour and the Marmalady, which brings in a powerful smoky Scotch and kumquats … wow.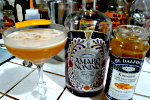 (Hmm, is it just coincidence or was Chris reading John Lennon's poetry when naming that last one? "He is putting it lithely when he says / Quobble in the grass / Strab he down the soddieflays / Amo amat amass; / Amonk amink amnibus / A marmalaidie moon …" Sorry, my mind works in odd ways and that just popped out of it.)
But no, not to be outdone … Paul Clarke of The Cocktail Chronicles, the guy who got the wacky idea to start this whole MxMo thing, makes it in quite literally at the stroke of midnight as the bells were still chiming, and like Steve combines his MxMo entry with his entry into the Monteleone cocktail contest. It's a superb-looking blend of rye, Aperol, vermouth, crème de cacao and Peychaud's bitters that I also can't wait to try, appropriately named the Two Birds, which is a great name for a drink (well, unless it ends up being called The Monteleone). He's right indeed, I am a bitter man — well no, I'm a bitters man. I think you're beginning to get the idea that this is a good thing.
Then after Paul finishes at midnight come the procrastinators … yes, my people!

My good friend Matt the Rumdood made it in at a respectable 12:18am on Mixology, um, Tuesday (and yes dude, I would indeed have teased you mercilessly had you not participated!) offers us a drink that was more than worth the 18-minute wait. Chris Hannah is one of the very best bartenders in the city of New Orleans, plying his art and craft at the French 75 Bar at the venerable Creole institution, Arnaud's Restaurant. The Bywater is quite possibly my favorite of Chris' drinks, for many reasons — it's named after the old Ninth Ward neighborhood where my family is from, it's based on aged rum (coming from Matt I'd expect no less), contains a healthy dose of my beloved Chartreuse as well as one of my favorite amari that reflects the city's Sicilian population. All that and a pretty garnish too. I'm very glad Matt's helping this drink get more attention.

Mike of My Aching Head brings stumbled across a drink that seems to be longtime classic by its flavor — how could this combination of ingredients not have been around for decades? — and its popularity, but was in fact invented by Paul Harrington in the 1990s. Robert Hess was the first person I know of to begin popularizing this lovely tipple, the Campari-based Jasmine. Harrington's added some kind of magic to this drink too, an undefinable, non-tangible bit of something that makes it taste like it's been around for decades.

Finally, a brief re-mention of my own contribution, the Eagle Rock Cocktail, based on rye and featuring Amaro Borsci San Marzano with the forthcoming (July!) Bittermens Xocolatl Mole Bitters. It's deep and dark and bitter and just slightly sweet with hints of dried fruit, cherry, spice and chocolate. I kinda like it.
Aaaaaand … that's it! I think. Gabriel is threatening to add a post, although I haven't yet received it and don't think my title of God Emperor of Procrastination is in any danger. Well, actually … I got this Gargantuan roundup posted only two days later. I might end up being a mere Sandtrout of Procrastination. Sigh.

[UPDATE on Mixology Wednesday!] Gabriel came through first thing this morning. We have a new God Emperor, and soon his entire skin will be covered with tipsy, hiccupping sandtrout. Unsurprisingly, it was worth the wait. Gabe, in weary traveller mode, wandered into San Francisco's Heaven's Dog, where bartender Erik Ellestad (whom I'm glad to see in this roundup, even indirectly) was asked to make something with Nonino, yet dry and refreshing. The resulting Upward Dog pleased him immensely, and sounds like one we'll return to at home.
Again, thanks a million to everyone who participated. I've got a frakload of drinks to make now.