Cocktail (and concert) of the Day: The Swell Season
I've been a fan of The Frames for a long time (since seeing them in Ireland before their first album came out), and naturally followed that into Glen Hansard's solo performances and his collaboration with Czech pianist and singer Markéta Irglová as The Swell Season. You may remember they won that Best Original Song Oscar last year, right? First time a song has actually deserved it in years.
My friend Steve was reviewing the show for Variety and kindly offered to bring me as his plus-one (read his review here). After several uncertain moments regarding misplaced will-call tickets that made me worry we'd miss the show entirely, we finally got in the door thanks to a very nice and helpful manager at the theatre, only having missed about half of Josh Ritter's wonderful opening set. That was a nice surprise; I didn't know he'd be playing support until we got there. If you haven't heard of him I highly recommend you check him out — he's an Idaho-born singer and songwriter in the folk and folk-rock vein, lesser-known here but huge in Ireland, mostly thanks to Glen having spotted him early on and championed his work.
When The Swell Season finally took the stage it's as if we got three shows in one — Glen and Markéta began solo, as their previous performances had been, and then were joined by The Frames as a backup band. For one large part of the set we were treated to Glen performing solo (including a great rendition of Van the Man's "Astral Weeks," which I've heard him do before and could hear him do again a hundred times) — we could have all been on Grafton Street.
Markéta did get to take a few turns on lead vocals (including one with a Czech singer whose name escapes me), and although her piano playing is a strong part of the band's sound I do agree with Steve's observation that it's a bit of an uneven musical partnership. Glen's definitely way out front, with Markéta sometimes feeling like a sideman. She's a wonderfully talented musician but the force of her personality is no match for Glen's — almost nobody's is, really. He's a powerhouse, and I agree with Damien Dempsey's comment that Glen's the most passionate singer he's ever seen.
Glen had mentioned that thanks to someone giving him the complete DVD box set of "Freaks and Geeks" he had become a huge fan (yay!), and to top that off got a chance to meet Jason Segal at a gig. They remained in touch and became friends, and we got an extra-special L.A. treat when Jason came on stage, sat at the piano and performed his own composition — a deeply moving, heartfelt and introspective song about using his celebrity status to coax a willing female Swell Season fan from the audience into the sack. I'm pretty sure this video was shot by the person sitting right in front of me.
And yep, apparently that's really his phone number.
The show ended on a pitch-perfect note, with Glen bringing up The Clancy Brothers and noting that Liam Clancy is the only one left alive. He did a Clancy Brothers song for us, a traditional number called "The Parting Glass" that I actually first learned from the singing of The Voice Squad. It's a longtime favorite and one that never fails to get the tears welling up.
Last year when Glen and Mar won their Oscar I came up with a cocktail in their honor, one that included both Irish and Czech ingredients. Wes and I revisited it the other night, and it's still a keeper, I think. Yet another Manhattan variation, but it works and it's tasty.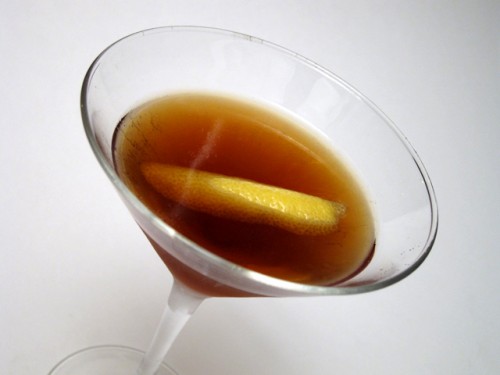 THE SWELL SEASON COCKTAIL

2 ounces blended Irish whiskey.
1/2 ounce Becherovka.
1/2 ounce Punt E Mes.
1 dash Angostura bitters.
Lemon peel.

Combine with ice, stir for at least 20 seconds and strain into a chilled cocktail glass. Express the oil from the lemon peel and add as garnish.
For the Irish whiskey, I recommend Jameson's or Tullamore Dew, especially the 12-year-old varieties. Otherwise, your favorite blended Irish will do nicely.
Finally, check out this terrific video clip Mary sent me — it's from a Swell Season concert in Houston. Glen likes to have people sing along, and he'll usually do a little run-through of the parts that require audience singing. He heard a voice in the crowd that he liked so much he invited her on stage to sing it with them.
Wow. I wanna go up on stage and sing with The Swell Season! I guess I'd better start practicing.