Drinking in London
Given that London is one of the world capitals for cocktail culture, as well as the capital of a country that makes some of the best beer in the world, one can drink very well in London indeed.
Having only one day in which to do it is beyond frustrating.
All in all, though, we did a fairly good job imbibing on our whopping one whirlwind day in London, culminating in some truly fabulous cocktails. Before all the tippling began, we started our day with a non-alcoholic beverage which was memorable enough not to get lost amidst all the ciders, beers, bitters, ales, porters, stouts and cocktails.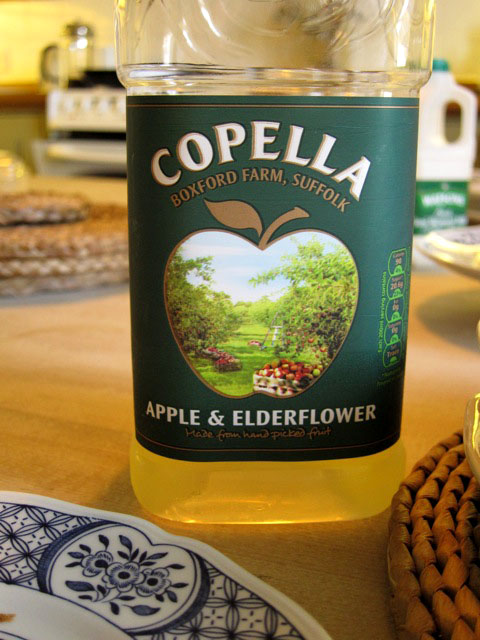 Fiona made us breakfast both mornings at Hampton Court (and for the next three days in Shropshire too!), and her breakfasts featured a wonderful product called Copella Apple & Elderflower Juice from Boxford Farm in Suffolk. Holy bejeebies, that stuff's good — fresh-pressed and filtered apple juice, not from concentrate, and very gently infused with elderflowers. It makes me want to get out the Laird's Straight Apple Brandy and St. Germain and start making cocktails. I now want this for breakfast every day, but it seems that I'll have to move to the U.K. to do it. Sigh. (You lot across the pond are lucky to have this!)
While we were omnomnomnomming on our bacon and sausage baps, pork belly butties, bits of black pudding and tastes of curries at Borough Market, we sampled another of the great British institutions — cider. Specifically, New Forest Cider from Hampshire, who had a lovely little shop in the market. Hard ciders these were, of course, in varying strengths and varieties, including the wonderful pear cider that's called "perry." As it was a bit nippy that day we had a hot mulled cider with cinnamon, cloves, nutmeg and allspice (oh boy), plus I sampled the perry as well. Wonderful stuff that, fairly hefty at 7% ABV, which can sneak up on you. Just a bit of a fizz, light and peary (perry!) and very refreshing.
We couldn't be in London without going to a pub, of course, and although I could spend days doing nothing but pubbing we kinda had to pick just one. John's first choice had closed for the afternoon, and then we found a fairly traditional place called The Mudlark, near London Bridge. Not the world's best but perfectly nice, a small inside with a much larger heated outdoor seating area, what looked to be quite good pub food (bangers and mash with a variety of local sausages available) and some truly excellent beers. The ones we had were all from Timothy Taylor, a Yorkshire brewery. John and Fiona had their Landlord Bitter, a strong pale ale. Wesly got an Autumn Brew by a brewery which escapes me (care to fill that in, Wes?), and I had another Taylor's brew, the Golden Best, an amber-coloured brew classified as a "mild." A bit lower in alcohol that what the others were drinking, nice citrusy notes and hoppy bitterness … yum.
Sadly, I didn't get pictures of any of the beer. Ah well. I guess I was too busy drinking it!
Whirlwinding around London the rest of the afternoon finally took us to the Connaught Hotel in Mayfair. One of London's nicest hotels, they've revamped their bars a few years back and are now one of the city's top cocktail destinations. Our gracious guide for the evening was our friend Jay Hepburn (cocktailian extraordinaire and author of the superb weblog Oh Gosh!). Of the hotel's two bars he suggested we meet at The Connaught Bar, and we did, only a few minutes late — highly uncharacteristic of us! Well, when cocktails are concerned, we can surely walk a little faster.
It's a beautiful space — a wonderful Art Deco look, gorgeous sparkly-silvery walls, mirrors all around, etched glass panels, a beautiful bar, very comfortable leather furniture in the booths and around the tables, and a pretty stunning cocktail menu. The main sections of the menu are "Revisited," featuring classic cocktails, often done with the Connaught's own twist; "Seasonal," featuring the best of what's in the markets now, and "Fusion," which is kind of anything-goes, old-meets-new, and the like.
Typically difficult choice when looking at a menu like this, but after some hemming and hawing I decided on my first drink, from the Seasonal section:
THE NJ SOUR

1 fresh fig
35ml applejack brandy (I'd recommend Laird's bonded)
10ml orange curaçao
10ml Averna amaro
20ml fresh lemon juice
15ml homemade pomegranate grenadine

Muddle the fruit and shake all the ingredients with ice. Double strain into an ice-filled Old Fashioned glass. Garnish with a dry lemon wheel.
Oh man … absolutely delicious! I'm kicking myself that I didn't do more with our wonderful Black Mission figs from our backyard (other than eat them) and that I didn't learn this drink while the tree was about to fall over with the weight of all our figs, because I would have made this a few times a week. Beautiful sweet fresh fig flavor, nice touch of bitter from the amaro, just enough balance in the sweet and sour, and very refreshing.
Wes ordered this one:
BALSAMIC COBBLER

5 fresh blackberries
30ml gin
20ml 10-year-old tawny Port
10ml Galliano Balsamico liqueur
15ml fresh lemon juice
10ml homemade spiced sugar syrup

Muddle the fruit in a mixing glass. Stir over ice and strain into a wine glass filled with ice cubes. Garnish with a cucumber slice and a blackberry.
Galliano Balsamico isn't yet available in the U.S., and is a version of their liqueur blended with balsamic vinegar. I cannot WAIT for this to hit the shelves!
Jay ordered a Martini, referred to on the menu as "The Connaught Martini." Sure, I love a great Martini, even a good one, but with this array of exotic cocktails at this place, why would you order something as simple as a Martini?
This is why:
The Connaught offer gueridon service for their Martinis; i.e., a Martini cart, brought tableside, with a white-gloved bartender to make your Martini for you, before your eyes.
It's a spectacular show, rivaled by almost nothing I've ever seen in a bar, and only by the tableside service of Bananas Foster or Café Brulôt in New Orleans.
THE CONNAUGHT MARTINI

75ml gin (or vodka, if you insist)
25ml dry vermouth
3 drops bitters – vanilla, grapefruit, cardamom, licorice, lavender, ginger or coriander

Stirred, with a twist or olives.
"Superb," he pronounced.
For his second round, Jay had one of these:
PISCO PUNCH

50ml pisco
10ml green Chartreuse
15ml honey syrup
5ml apricot liqueur
10ml papaya infusion
2 pineapple chunks
2 lime wedges

Muddle and shake all ingredients with ice. Strain into a coppa glass full of crushed ice. Garnish with spices, pineapple spice and flamed Angostura bitters.
Um. Wow.
Here was my second round:
AUTUMN GARDEN No. 2

4 fresh raspberries
5 mint leaves
35ml Genever
60ml apple juice
30ml fresh lemon juice
20ml simple syrup
30ml bergamot-clementine liqueur

Muddle the fruit and shake all ingredients over ice. Strain into an ice-filled highball glass. Float bergamot-clementine liqueur. Garnish with a mint leaf and a raspberry.
I've been unable to find any references to one single bergamot-clementine liqueur, and I was 1) having so much fun and b) a little bit lit, and neglected to ask the bartender, so perhaps it was a 1:1 mixture of the bergamot and clementine liqueurs made by Calabro in Italy. (Jay, do you know?)
And yes, it really was that tall.
Somehow I lost track of what John was drinking and didn't get any pictures of it (perhaps he can fill us in as well) but I do know Fiona had this:
THE ITALIAN JOB

50ml vodka
15ml Campari
5ml simple syrup
20ml fresh orange juice
20ml passion fruit purée
1 fresh passion fruit

Muddle the passion fruit in a mixing glass, add the other ingredietns, shake and strain into a cocktail glass. Garnish with a slice of passion fruit.
Yeah yeah, I know, vodka as the base spirit. But the vodka in this cocktail was doing its job, and doing it very well. The major flavor component is not the spirit, but the fresh juices and purées. The Campari gives it a bitter edge and nice balance, and the vodka, head wrapped in a babushka, gives it all a big Russian Motherland hug and brings it all together into a proper drink (while probably muttering naughty words, wondering why all that nice vodka was being adulterated with fruits and juices). And it was very tasty — we were actually allowed a sip!
Oh my, and how could I have neglected to mention this by now? Jay, John and Fiona, Wes and I were joined by our pal Jeffrey Morgenthaler, who was in town for UK RumFest! Somehow, this group managed to have a great time yet not end up being arrested.
Well, that's because we're all consummate gentlemen, of course.
Oh, and how did I manage to remember all these complex recipes, in milliliters, no less? It's because The Connaught very kindly provide recipe cards for everything you've had, which they bring to you along with the tab. The tab is not insubstantial, by the way. Drinks at The Connaught run from £12-15, so two was my limit here.
I cannot recommend The Connaught enough. Everything was impeccable, from the atmosphere to the service to the decor to the drinks. It's worth the extravagant cost for at least one round if not two, but if you go beyond that then it'll be quite the splurge. You'll enjoy every minute of it, though.
After The Connaught Jay took us to a private club which I'll not mention in the interest of discretion (unless he pops and says it's OK), and while I remember the small, beautifully appointed bar, the interesting cocktail list and the excellent bartenders, I cannot for the life of me remember what I drank there. This is because, as I was a guest in a private club, I was asked not to take pictures, and I didn't have my notepad with me, and I didn't take notes on my iPhone either, and we already know how notoriously unreliable my memory is. Sigh.
We ended up having Indian food for dinner — how could I end my only day in London and not have Indian food?! Gopal's of Soho were our friendly hosts, serving us an array of tasty appetizers and flavorful curries, washed down by a couple of bottles of Kingfisher. Then came the exciting (read, "tense") part of the evening as we hopped into a taxi to get back to the train station. We'd have stayed out with Jay and Jeff a lot longer but the last train back to Hampton Court was at 11:35 — if we missed it it would mean the night bus and a long wait if we were lucky, or a £60 cab ride if we weren't. Our affable cabbie, despite the absolutely mad traffic in Soho at nearly half eleven at night, managed to get us to the train station with a whopping six minutes to spare before the train left.
Wes might pop in in a bit with the other things we did in London that day, but even without that and just this and the Market, it would have been a hell of a day. And it was.