The Curari Cocktail
Yes, it's a very obscure ingredient. Don't blame me, blame Dr. Cocktail! It's his fault! He's the one who gets me to fall in love with all this stuff that's impossible to find!
(A brief digression … other than truly vintage items like Abbott's bitters and 13-year-old bonded Old Overholt rye distilled before Prohibition, hidden during and then bottled afterward, a fair bit of the impossible-to-get stuff he's turned me on to way back when is now available, like allspice dram, Crème Yvette, falernum and more. Life in the cocktail world is really good these days.)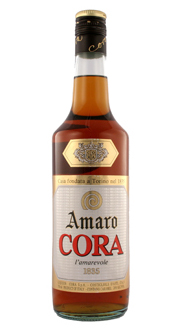 The idea to post this drink this week came from my having bought a bottle of ruby port to make the St. Charles Punch the other day. It was a Warre's Warrior Port — a perfectly nice, respectable everyday port, about $14 at the corner market. It's not one I'd rhapsodize about, but it's perfect for mixing in cocktails. (The Dow's 1994 Vintage Porto I got Wesly for his birthday is most decidedly not for mixing, but for sipping, savoring and rhapsodizing.) This'll probably spark several port-based cocktail posts over the next week or so, so stay tuned.
The key ingredient in this drink is Amaro Cora — ahh, I so do dearly love amari — an Italian digestivo (and light enough to work as an aperitivo as well) from Turin in Piemonte, sweeter than most amari, with flavors of orange, cinnamon and other spices. This is a really good entry-level amaro, and probably the one I should have tried first instead of the one which I did, which was Fernet Branca, which at the time scared the crap out of me.
Better yet, Amaro Cora isn't impossible to find — it's still made, but it's a mother to track it down in this country. In the July/August 2007 issue of Imbibe magazine Doc describes how he stumbled across the ingredient in the most excellent 1937 tome The Café Royal Cocktail Book from the UK and describes his reaction to it (something along the lines of "Aha … what is this? It's still made?! What does it taste like? I don't care, I must have it!") and an amusing tale of Argentinean internet auctions, second-hand translations and losing money.
But you can still get it! It just takes a bit of effort, easily done. The only place I currently find it is via Mount Carmel Wines and Spirits in the Bronx, for the princely sum of $9.99. It's lovely stuff. If you're interested in Italian bitters you must have it. You can order it over the Internetsss and it's cheap. So what are you waiting for?
The first drink Doc tried it in was a vintage cocktail from Café Royal called the Amarosa (for which he adapted the proportions for modern tastes and balance), then came up with this original, which he served to Wesly and me at a soirée chez lui several years ago.
This is a wonderful drink … one of the best Doc has ever come up with, I think. With the rich, spicy base of a rye whiskey underneath, the fruity notes of the port explode with ripe cherries and blackberries, and the Cora provides a hint of bitterness but marvelous citrus and cinnamon spice to accent the fruit, and the Regans' give a perfect little boost to both the bitter and citrus notes. So much going on in here, and it's all fun.
Even though he doesn't mention it in his Imbibe piece, I could swear that when Doc first served this to us it was garnished with a cinnamon stick, a perfectly logical garnish given the spice notes in the drink. (Caveat — I was undoubtedly hammered at the time, an occupational hazard everlastingly delightful side-effect of being a houseguest of Doctor and Nurse Cocktail.) If one is not handy, an orange peel would not be at all inappropriate.
THE CURARI COCKTAIL
(by Ted "Dr. Cocktail" Haigh)

2 ounces rye whiskey
3/4 ounce ruby port
3/4 ounce Amaro Cora
2 dashes Regans' Orange Bitters No. 6

Combine in a mixing glass with ice, stir for 30 seconds and strain into a chilled cocktail glass. Garnish with a proper cherry on a cocktail pick.
You really should pick up some Amaro Cora. Did I mention that it was cheap? (Well, I mean inexpensive, of course.)