Drago Centro's Cocktail Contest, Week 1
Chef Celestino Drago's latest Los Angeles restaurant Drago Centro has looked and sounded so good for so long (a whole year and a half!) that it was almost criminal that we hadn't been there yet. We finally made reservations for this past Saturday night, which promised to be an evening full of WIN. (And it was, in a couple of ways. Dinner was fantastico, bellissimo! I'll have some food porn up from that later.)
We've been big fans of Chef Drago's other restaurants around town (and I still miss his late, lamented Sicilian restaurant L'Arancino in West Hollywood). In addition to the enticing menu they've got a very good cocktail program (regularly spoken of with enthusiasm by our friend Mark, who's a bartender there) that's headed up by sommelier and beverage director Michael Shearin and head bartender Jaymee Mandeville.
Michael and Jaymee have been up to something interesting. They've organized something called the People's Cocktail Contest, and it's primarily happening via Twitter. Yes, I've been dragged screaming and kicking into the Twitter thing (I still refuse to use the word "tweet" as a verb), and despite having had problems with certain Twitter+food combinations in the past, I found myself inexorably drawn into this one (especially since it involves making cocktails and doesn't involve anyone sending hundreds of the Teeming Masses into my neighborhood to wait 90 minutes in line for an expensive taco). Here's how it works:
The contest lasts for four weeks. Each week on Monday, a "secret ingredient" will be announced via Twitter. ("Kyo no tema … KORE DESU!") Participants will create an original cocktail featuring that ingredient. Cocktails are judged on appearance, aroma, taste, creativity, name, and its compatibility with the existing Drago Centro cocktail list. You post your recipe on Twitter, directing it to Drago Centro's account (@DragoCentro) with the hashtag #pplscocktail to identify it. Include all instructions, muddle, shake, stir, whatever, and use 2-3 posts if you have to. The secret ingredient will be different each week, and each weekly round will end on Friday at noon. After 4 weeks the winners will battle it out live for a panel of judges. The winner will have his or her cocktail featured on Drago Centro's list.
Week 1 was this past week, and last Monday the secret ingredient was announced, something "seasonal and appearing at all of our local farmer's markets … BLUEBERRIES."
Well! That sounded fun. I gave it some thought, then decided to work with flavors that I knew worked well together, to use an Italian amaro and to keep it simple. I've enjoyed berry-infused whiskeys before, both Bourbon and rye, and decided to go with a higher-proof Bourbon. I probably would have preferred to steep the berries in the spirit for a couple of weeks, but there wasn't enough time, so vigorous muddling was called for.
The first tries yielded not enough blueberry flavor, so I upped the number of berries until it seemed right. 12-16 was definitely too few, and about 20 seemed right. Taste your blueberries for tartness and flavor to determine how many you'll need. The amaro was Ramazzotti, one of my favorites, not too bitter and with a nice flavor from Sicilian orange peels, along with rhubarb and a touch of cinnamon. I love the flavor of blueberries and cinnamon together — I recalled a fantastic risotto I had at Trattoria Tre Venezie in Pasadena with wild blueberries and cinnamon — and wanted to accentuate that cinnamon flavor while bumping up the sweetness just a bit. My friend Blair's excellent new product did the trick, but you can make your own cinnamon syrup by steeping cinnamon sticks in hot simple syrup, or adding a cinnamon tincture to simple syrup if you've got it.
I wanted to name the drink after Violet Beauregarde, who was turned into a gigantic blueberry in "Willy Wonka and the Chocolate Factory," but "beau regarde" (literally "beautiful look," in French) didn't sound like something that'd fit into the cocktail menu of an Italian restaurant where all the drink names are in Italian. A quick (and bad) Google translation of "beau regarde" into Italian yielded "bello sguardo," the grammatical and idiomiatic correctness of which got a "Nope" from Italian speaker and general manager Matteo Fernandini at the restaurant. He said he'd give it some thought, but I didn't think to ask him later (and he was somewhat busy with that whole running-a-restaurant thing). Anita came to the rescue yesterday, saying that if we're trying to be literal with "beau regard(e)," a better rendition would be "bell'aspetto," an Italian expression for "handsome." Bingo. Thanks, Anita. (I should really start learning some Italian.)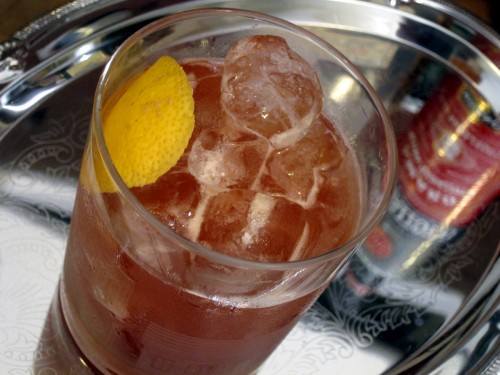 BELL'ASPETTO

2 ounces Woodford Reserve Bourbon whiskey
Small handful of blueberries (12-20, depending on size, to taste)
1/2 ounce Amaro Ramazzotti
1 barspoon (tsp) Trader Tiki's Cinnamon Syrup
Lemon peel

In a mixing glass, muddle the blueberries thoroughly in the whiskey. Add the Amaro and syrup, ice and shake for 15 seconds. Double-strain over ice into a large Old Fashioned glass, and garnish with a large swath of lemon peel.

Although not shown here, I also like to add three blueberries on a cocktail pick to the garnish.
We tried another one last night using Knob Creek Bourbon, at a higher proof of 100. We really liked it. We may even have liked it better. (Bonkers Wesly wants to try it with Stagg now.) Play around with your own favorite higher-proof Bourbon, but the "official" version still uses Woodford.
Oh, by the way, yesterday afternoon they sent out a Twitter post that out of fifteen entries — including one described as tasting "just like pot" (?!) — this past week's winning cocktail was … this one. Hoo!
😀
A new theme ingredient goes up this afternoon. Check the @DragoCentro Twitter feed to find out what it is.