Two great tastes that taste great together
Those of you who have been following along here for a while will likely remember that Chuck and I are members of an august body known as the Fat Pack. The reasons for the name are likely self-evident, and although there is indeed a story behind the name (and the excursion on which it was assumed), that falls squarely under the heading of What Happens In Vegas, Stays In Vegas. Suffice it to say that, when we all get together, as a general rule, eating is involved. Why, just imagine your surprise! I can feel it from here.
For several years now, one of the Fat Pack's annual traditions has been Second Thanksgiving. What, well may you ask, is Second Thanksgiving? In response I say, "Consider the hobbits and their dining habits, and all shall be made clear."  Second Thanksgiving is a day—usually the Sunday of Thanksgiving weekend—spent with friends (the family you choose), free of family tension, drama and general angstiness. It is an opportunity to connect and re-connect, to get caught up, and to show off one's cooking prowess with something especially decadent, most likely incorporating bacon or other variations on the theme of pork…but, bacon. Yes.
In past years I've tended to leave the cooking to Chuck, because I don't really cook, not like he does, and also I'm lazy. But last year he was out of town for the holiday, arriving home basically just in time to hop in the car and head off to Second Thanksgiving. So last year I cooked, or rather baked, or rather followed one (actually it was two) of Paula Deen's butter-based recipes. As I recall, one of them started with biscuits from a tube, and the other with crescent rolls from a tube. Ah, Paula, how we love thee!
But this year I decided to bake from scratch. Because, while I'm not really a cook, I do like to bake. Cakes and cookies are fun and actually pretty easy, if you can measure and stay organized—this may be why I like mixing cocktails. Pies, on the other hand, are more difficult—pastry crust is just difficult for me, and custard fillings…well, they're daunting. But my granny taught me to bake cookies, and I knew I could pull off something good if I didn't mess around. It came to me as if in a dream, and I knew it was the right, perfect idea: Peanut Butter Cookies…with Bacon. It's a classic with a twist! And the twist is bacon! I basically couldn't go wrong, unless I burned them.
Interestingly, it never occurred to me to look for an actual recipe for Peanut Butter Cookies with Bacon—I just searched up a cookie recipe that looked a lot like my granny's, and added bacon to it. So I'm not trying to take credit for originality here, just for the thought and effort. Oh, and the success. The base recipe is from allrecipes.com; all the bacon stuff is mine. Without further ado: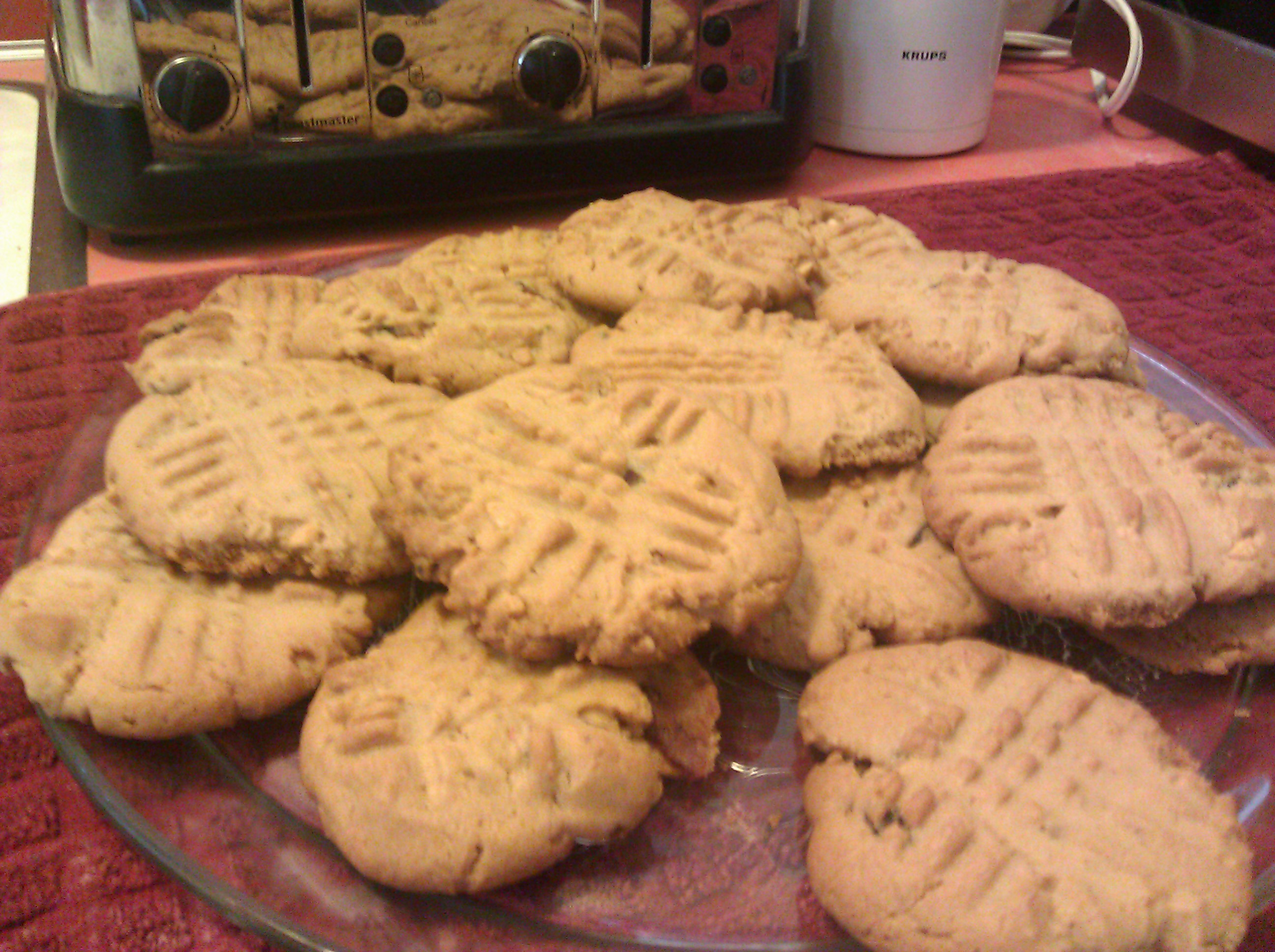 Peanut Butter Cookies with Bacon

1 cup unsalted butter
1 cup crunchy peanut butter
1 cup white sugar
1 cup brown sugar, packed
2 eggs
2-1/2 cups all purpose flour
1-1/2 teaspoons baking soda
1 teaspoon baking powder
1/2 teaspoon salt
12 ounces applewood-smoked bacon

Cook the bacon until crisp. Strain and reserve the bacon fat. Put aside four strips of bacon. Eat two of them, and give the other two to your honey to eat. Crumble the rest of the bacon and set aside.

Cream together the butter, peanut butter and sugars. Beat in eggs, one at a time.

In a separate bowl, sift together flour, baking soda and powder and salt. Stir into batter. Fold crumbled bacon into the batter. Refrigerate batter for one hour.

Heat oven to 375ºF.

Roll cookie dough into 1-inch balls and put on baking sheets. (Optional step—grease the baking sheet with some of the reserved bacon fat.) Flatten each ball with a fork, making the classic cross-hatch pattern. Bake for about 10 minutes, or until cookies start to brown. DO NOT OVER-BAKE.

Cool on racks, then enjoy.
I had a lot of fun baking, and it's been a while, so that was good. My Granny Foster (my mom's mother) was talking to me in my head from the moment I pulled out the mixing bowl, and pretty much throughout the whole process, and those were nice memories to savor. "Make sure you start with a big enough bowl!" "Be sure to stir all around the outside of the bowl, not just in the middle, and all the way to the bottom, not just the top. Otherwise your dough won't be right, and the cookies will come out wrong." "One-inch dough balls are just silly; you want one-and-a-half-inch balls. They'll take longer to bake, but the cookies will be bigger and better." (If you do this, the baking time will be closer to 12 minutes.) It was nice to hear her voice again, even if only in my head, and I like to think that she'd be glad to see me baking from scratch.
As it turned out, my experiment was entirely successful: the cookies were a big hit at Second Thanksgiving, and I noticed extras going home in zip-lock bags for later enjoyment. Our friend Larry reportedly "went coo-coo" for them, which is pretty much the best reaction I could possibly have hoped for. It's worth mentioning that the recipe was annotated with "Servings: 24". I read this as "Makes two dozen" and thought, "Oh no, two dozen cookies will never be enough—I need to double this." Which I did, and it was way more than I needed—I still have about 1/3 of the dough in the refrigerator, and I need to either freeze it for later or bake even yet still more cookies…the horror, the horror. I can only imagine that the 24 people being served are supposed to eat three cookies each, or more like four if you're just silly and make one-inch dough balls. Just something to keep in mind; your mileage, of course, may vary.