A darker flower
You may remember the Golden Dahlia. If you do, I both commend and thank you. Commend, because your memory may be tenacious as the proverbial better mousetrap. Thank, because that's a drink I'm still quite proud of, and one that I think is simple in all the good, even the best ways. What has this got to do with anything? Read on.
I like Kraken. Hell, I have a certain fondness for Captain Morgan's, as long as it's in a Cable Car (which I first tasted and enjoyed, believe it or not, at the beautiful Petrossian Bar at the Bellagio Hotel in Las Vegas). But yeah, I like Kraken, I think it's a fine product, and I've wanted for the longest time to do something interesting with it. But what, O what would that be?
That was indeed the question. You could arguably call me lazy, but I was quite happy to fall back on a formula I had previously established as successful, at least as a start. On various evenings, I tried two or perhaps three slightly different variations on the Golden Dahlia theme (rum + amaro modifier) with Kraken as the base spirit and various amari as modifier. Despite my mental conjurations and resultant high expectations, none were successful. (I can be a harsh and demanding but realistic judge of my own efforts.) I found myself feeling frustrated and thwarted. Deep down, I knew this should work. Why did it not?
Weeks went by.
I mean, seriously. I'm not joking. Weeks went by. I pondered, but did not know what to do. And then…the magic happened. As it has done before, but still. I said something along the lines of, "I'm happy with this as far as it goes, but I want it to be, you know, punchier somehow." And yet I didn't know quite what to do to punch it up. Fortunately, Chuck had a thought: "I know what will give it some oomph." The moving finger writes, and having writ, etc.
And so: Kraken, because I like it. (I have a superawesome long-sleeve promo t-shirt! Which, yes, I do wear!) Ramazzotti, because I do so love a good amaro, especially as a rum modifier. Lemon Hart 151 Demerara Rum, for the oomph. Luxardo Fernet, because it reminds me of NYC (where I first tasted it, at Babbo), and for its clean yet complex flavor that for me is like unto Fernet Branca, but with clear black pepper rather than menthol. Orange bitters, for their brightness.
Considering her dark hue and kinship with her lighter, golden sibling, and meaning and intending no disrespect of poor Elizabeth Short, I have called this concoction: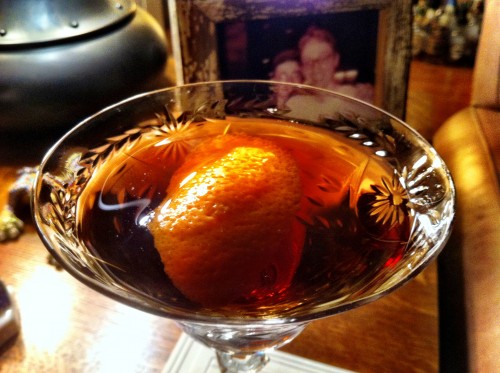 Black Dahlia
created by Wesly Moore and Chuck Taggart

2 oz. Kraken Black Spiced Rum
3/4 oz. Ramazzotti
1/4 Lemon Hart 151
Barspoon Luxardo Fernet
3-4 dashes orange bitters (your preference; I like Miracle Mile, Regan's No. 6, and Angostura)

Stir over ice. Strain into a chilled cocktail glass. Garnish with an orange twist, if you feel extravagant; it is quite fine without.
Dark. Bitter. Mysterious.
You may enjoy it.