Una Noche de Ponche (A Night of Punch)
The "Twas the Punch Before Christmas" punch competition at Malo on Thursday was a blast. If you didn't make it, you missed a great night.
My biggest (well, maybe second-biggest) and best surprise of the evening was seeing someone in a 50s-style tiki panel shirt and thinking, "Wow, that guy looks like Blair from behind." The guy turned around … and it was Blair! Yay, Trader Tiki himself! There was much rejoicing. He was kinda-sorta in the neighborhood, having done BarSmarts in Las Vegas (a mere 200 miles away), entered a punch that was accepted as a finalist (I had no idea) and made the hop to L.A. All this punch plus a nice visit too — good way to start!
It was a formidable group of competitors. Besides Blair the others were Chris Bostick from The Varnish, a good friend and monstrously talented bartender (who had Forrest Cokely as his proxy mixer-server, as he had to work that night); Zach Patterson from STK, also superb behind the stick; and someone I'd heard of but never met before, Jason Schiffer from a restaurant and bar in Seal Beach called 320 Main, and thanks to them you can get excellent Manhattans and Old Fashioneds in Orange County.
It was a lot of fun, and good experience. I'd wanted to enter a cocktail competition for a long time now, but they were either at bad times and/or filled with so many great bartenders that I would have had my ass handed to me in two seconds (which would be great experience, really), or else other competitions I thought about entering that I ended up getting asked to judge instead. That was very flattering, of course, and quite an honor, but I began to wonder how long it'd be before I could get myself into a competition which would actually accept my entry and in which I might have had a ghost of a chance. Local cocktail competitions tend to be made up of bartenders with exponentially greater skills than mine. I was over the moon to be a part of this one … although it was technically not a cocktail competition, actually, as the Bowl of Punch predated the cocktail by a couple of centuries.
There were originally six finalists but unfortunately one couldn't make it, so the five of us presented our punches to a paying and thirsty crowd of about 100 people at Malo. Here was mine: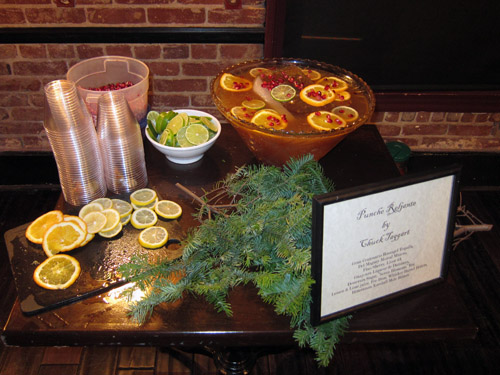 PONCHE RELAJANTE
("Relaxing Punch")

32 ounces Gran Centenario Rosangel tequila.
8 ounces Del Maguey Minero Mezcal.
8 ounces fino sherry.
1 cup Demerara sugar.
2 lemons and 4 limes (or enough for 1/2 cup juice from each)
6 ounces Guaycura Liqueur de Damiana
2 ounces Licor 43 (Cuarenta y Tres)
48 ounces (3 pints) Té de 7 Azahares (Mexican "7 Blossoms" herbal tea)
16 ounces water
35 dashes (about 1/2 oz) Bittermens Xocolatl Mole bitters
35 dashes (about 1/2 oz) Fee's Whiskey Barrel-Aged bitters
Lemon, lime and orange slices
Pomegranate seeds

Peel the lemons with a sharp vegetable peeler (zest only, no pith). Juice the fruit, strain the juice and measure until you have 1/2 cup each of lemon and lime juices for a total of 1 cup of citrus. Add the sugar to a punch bowl and muddle the lemon peels in the sugar until you've extracted the oils, and the sugar gets a bit wet and clumpy with lemon oil. Let that sit for a while if you have the time.

Add the tea and citrus, and stir until sugar is dissolved. Remove the peels with a slotted spoon. Add the spirits, sherry, liqueurs and bitters. Chill. Add a large block of ice (freezing a stainless steel bowl full of water works well). Garnish the punch and ice block with slices of lemon, lime and orange, and scattered pomegranate seeds.

Serve about a 4-ounce serving in a punch cup. Garnish each serving with a lime wheel and a spoonful of pomegranate seeds.

YIELD: 34 four-ounce servings.
Yeah, I know. That's one of sour, two of sweet … um, six of strong and eight of weak. Well, that's if you count the sherry as the strong, but we should probably count it as weak because it's not spirits. That brings us down to one of sour, two of sweet, five of strong and nine of weak, which is a little less scary-sounding.
I showed the recipe to my friend Rick Stutz ("Sshh, it's a sekrit until Friday!") the other day. After a moment of silence, he replied, "You are a crazy bitch." Well, yes. Yes, I am. I guess. So how did I come up with this crazy concoction? Three inspirations, or cocktailian muses: Rhachel Shaw, Jeffrey Morgenthaler and Wesly Moore.
Rhachel bartends at Malo and was one of the organizers of the competition, and early on I heard her say, "Boy, I hope someone does a tequila-based punch." I thought … okay. I'll do one. I had never tried making a punch with tequila before, and I really haven't even done any original tequila cocktails either. A challenge to which to rise!
Then there was a passing mention from Jeff that he was going to enter an eggnog competition armed with añejo tequila and Amontillado sherry, "but I'm going to lose because my recipe doesn't contain bacon." I thought, "Ooh … añejo and Amontillado, that sounds great!" If you're going to steal an idea, steal from the best.
But then Wes said, "I think you should make your punch with Rosangel. I think the floral elements would work really well in a punch." And that was my base.
I wanted to incorporate a lot of Mexican elements, but also some flavors from Spain as well, if I was going to be using sherry. We'd just returned from Spain and I had Spain on the brain (and still do). I thought Cuarenta y Tres, also known as Licor 43, might make a good sweet element. I really love 43 — it has a lovely vanilla-citrus flavor which I thought would work really well in the punch.
After digging through the liquor cabinet (and the bar and all the bottles on the floor scattered all through the house) that I'd try Damiana liqueur from Mexico too. Damiana is an herb that grows wild all through Baja California and is used for a variety of medicinal purposes. It can also apparently be smoked with a milder and more relaxing effect than that other more famous herb people like to smoke, and reputedly has an aphrodisiac effect. (Well.) I do like the commercially-produced liqueur, but from what I've read the homemade variety in Mexico is far superior. I'd surely like to try that sometime.
There were many early failed attempts at concocting these ideas together into something drinkable. When I first tried combining Rosangel with Amontillado the sherry completely overwhelmed the tequila, so I threw that out and switched to a drier, less nutty fino. Licor 43 is really, really sweet, and I didn't want that to overwhelm the Damiana, so rather than equal parts I went for 3/4 to 1/4. The delicacy of the Rosangel was working really well but I wanted an earthy element too, so I thought about adding the Minero (tequila and mezcal, yeesh) — not enough to cover or detract from the floral elements, but enough to give an earthy base. A 4:1 blend of Rosangel to Minero seemed to work well. Now, what about the weak element?
I had tried some Mexican-style herbal teas before, and headed out to the Super A supermarket in Highland Park to see what they had. I bought some damiana tea, some lemongrass tea, and this:
This is "Té de 7 Azahares," or Mexican "7 Blossoms" tea, an herbal blend that's quite popular and besides having a lovely flavor is taken for relaxation and calming. In fact, I've read that it's often given to people with "nervous conditions" and that some of the herbs within have documented anti-anxiety and anti-depression effects. There seems to be a bit of a lack of agreement as to exactly what all the seven blossoms are, but the McCormick blend includes passion flower, linden flower, chamomile, rose petals, star anise and tilo. Oddly enough, McCormick don't mention a seventh blossom, and I've read that it could be anything from St. John's wort to catnip. (Meow!)
That, plus tequila, plus mezcal, plus sherry … um, have a cup of this and you should be very relaxed indeed.
I brewed the other two as well, tasted all three and the 7 Azahares was the clear winner. I fetched Wesly, my sounding board and taste tester and he picked that one too. I had my weak!
After that it was mostly proportions and general tweaking of spices and bitters, and after about a dozen small test samples (measured by the teaspoon after dividing the total amount into teaspoons and then making a 1/24th size serving) we arrived at something that not only incorporated my ideas but also tasted good (pretty darn good, if I may say), and got the coveted Wesly accolade: "Now that's interesting. I'd definitely order another one of those."
The dicey part is that although I had made at least a dozen test-sized portions I had never made a full-sized batch of the punch until the night of the competition. When I arrived at Malo to prep I ended up making two batches, then I tasted it.
Oh crap. Too strong. The balance was off.
Maybe not too strong for me, but I had visions of people taking a sip and then coughing. A burst of flop sweat, a moment of calming, then doing what needed to be done — I decided to add water to it in small amounts and keep tasting. As it turned out, I had to add an entire pint of water before the balance was right. I thought it tasted really good at that point, but for extra security I brought a sample to Wes for him to taste.
"What did you do?!" he exclaimed. "Did you change this substantially since our final tasting at home?"
I began to panic. What the hell, it tasted good to me. Was I delusional? "No, I just added water for balance! Is it awful? Did I ruin it?"
"No … it's a lot yummier than it was before!" (Well, you could have said that first, sheesh!)
I'm not sure what the final head count was, but I served a lot of punch that night. I tasted all the others too … and they were all really good.
At the end of the evening, after terrific punches, hot buttered Kraken Spiced Rum (our sponsor), nibbles from the kitchen and a splended time had by all … Zach Patterson won the People's Favorite award after the votes were counted. Congratulations, Zach! That was one yummy punch. I hope to get all the recipes for a round-up post sometime in the next week or so.
(Oh yeah, who won the Judges' Choice? Um, that was me. 🙂 Yay! I'd have to say that was the biggest surprise of the evening. I'm very honored, and super-glad they liked my punch.)