Anybody who knows Wesly and me know that we love bitters and amaro.
"What is amaro?" some of you may ask. (Oh hi, you must be new!) The word "amaro" means "bitter" in Italian, with its Romance language counterparts "amer" in French and "amargo" in Spanish. Synonymous with "digestif" and "digestivo," an amaro is a bitter liqueur, usually with some sweetness, comprised of herbs, roots, barks and spices, that is primarily meant to be taken after dinner to help settle one's digestion. Most amari (plural of amaro) are quite effective at this; they're a perfect example of herbal medicine at work. Italy is a wonderland of amari, with myriad examples made throughout the country, most of which are incredibly local and bound by their ingredients to the regions from which they originate. If liqueurs of any kind could be said to have a terroir, that would describe amari — they tend to feature local very local plants and herbs among their ingredients. The amari we have available to us in the U.S. is but a mere fraction of what's available in Italy, as most of them aren't exported. (When we finally go to Italy I'm going to need two suitcases just for booze.) But I digress.
Our addiction to bitters runs the gamut, starting with "dashing bitters," aromatic or single-flavor bitters that are generally used by the dash rather than by the ounce. The bar at home used to have a dedicated "bitters shelf," the short shelf on the top. It still does, but our collection of aromatic bitters has far outgrown that space. Now we have aromatic bitters on top of the bar, including a whole pretty row of our locally-made varieties, Miracle Mile Bitters and Olive Heights Bitters. We used to have a piano in the living room that we hardly touched; that went to Wesly's sister's house for our nieces to not touch, and was replaced by a bookcase. The bottom shelf is entirely devoted to our drinking bitters — amari, digestivi and aperitivi. At last count we had 48 different kinds of amaro, including bitter apéritifs/aperitivi.
Oh wait, make that 49.
It's a doozy, too. From our good friends at Haus Alpenz comes Elisir Novasalus, a wine-based amaro that is one of the most bracingly, unrelentingly bitter amari I have ever tasted.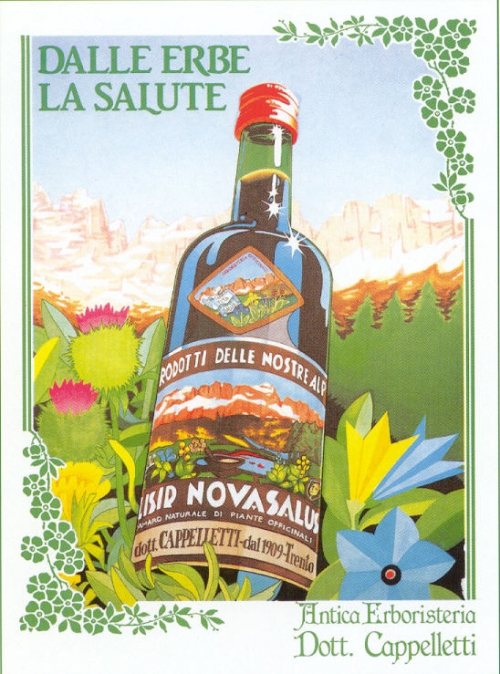 L'Elisir Novasalus ("The new health elixir") comes from Distilleria Cappelletti in Trentino in the north of Italy — they make a wide range of grappa, liqueurs, aperitivi — including the fascinating and delicious wine-based Campari alternative Aperitivo Cappelletti — and amari; this appears to be their flagship amaro. Unlike most it has a wine base, in this case dry Marsala wine, infused under the direction of an "erborista" (herbalist) with over 30 plants, flowers, roots and herbs from the surrounding region and in particular the high Alpine region of Alto Adige just north of Trentino; or, as the label says in Italian, "amaro based on wine and plants from the Dolomite mountains."  Burdock, dandelion, aloe, gentian, alder buckthorn and cinchona are in the mix, as is some kind of tree sap brought in from Sicily (although which one is unclear).
The Marsala gives it a solid flavor base (and of course also means you'll need to keep this one in the fridge), and the first sip is … like getting kicked in the crotch by a tree. I know, that sounds bad, but it's actually … not. Don't get me wrong, it's bitter — very, very bitter. You'll make a face. But then your face will soften, and you'll find yourself compelled to sip it again, and again. After the initial shock of the first couple of sips Novasalus' marvelous complexity becomes apparent. It's a very dry liqueur but then a touch sweetness comes in. My first thought was "earthy," and you want to keep sipping try to figure out what all those myriad layers of flavors are. "It grows on you" is a cliché but in this case it really does, and it's fascinating, and while you want to make sure that whatever's growing on you isn't something out of a horror movie, you find that this liqueur, this elixir, this amazing new medicine, isn't going to last long enough to go bad in your fridge.
My favorite description of its medicinal effects were from an Italian website, put through Google Translate: "Elixir Novasalus helps all organs to work in the best way to obtain an improvement in the regularity of the organism. It can be used as needed or for long periods." All righty, then. Many folks also say it really does help settle your stomach after dinner, and I can testify to this as well.
In Italy, as with most amari, it's consumed neat, room temperature or chilled, or over ice, and sometimes with a spritz of sparkling mineral water. From our distributor comes this interesting tidbit: "While not traditionally mixed, it is nicely followed by a small glass of sparkling wine," and that it is of course also "famously comforting after a large meal." There are those of us who love to mix with amari, though … and our household is no exception. Wesly had tasted some along with our friend Jenn Wong and said that "it reminded me how much I wanted to play with it. I liked the idea of a Manhattan-esque thing, and there was general agreement that this could work." When he got home he disappeared into the kitchen. "I went with bourbon as I wanted a sweeter base spirit up against the intensely bitter Novasalus (even based as it is on Marsala wine). Did some experimentation while working on overall balance. Ended up with [this]."
2 oz Buffalo Trace Bourbon
1 oz Carpano Antica Formula sweet vermouth
1/2 oz Elisir Novasalus
4-5 dashes Olive Heights Don Benito Orange Bitters

Stir with cracked ice and strain into chilled cocktail coupe; twist an orange peel over the drink and garnish with the peel.
"Familiar and yet not…sweet, spicy, earthy, bitter, musty. I don't hate it," he said. I didn't hate it either. Jenn didn't hate it either. Haus Alpenz replied to our Bar Keeper Instagram repost and said, "Well done! We don't hate it either."
Never has "we don't hate it" been such a ringing endorsement, but it is. As we've sipped more and more of it, not only do we not hate it … we kinda love it. Make no mistake, this is a challenging amaro. But if you love amari as we do, and if you love to explore the flavors of Italy via spirits, you really can't miss this one.  It's inexpensive, in the $23-25 range, well worth it for the bold amaro lover!