The "Twas the Punch Before Christmas" punch competition at Malo on Thursday was a blast. If you didn't make it, you missed a great night.
My biggest (well, maybe second-biggest) and best surprise of the evening was seeing someone in a 50s-style tiki panel shirt and thinking, "Wow, that guy looks like Blair from behind." The guy turned around … and it was Blair! Yay, Trader Tiki himself! There was much rejoicing. He was kinda-sorta in the neighborhood, having done BarSmarts in Las Vegas (a mere 200 miles away), entered a punch that was accepted as a finalist (I had no idea) and made the hop to L.A. All this punch plus a nice visit too — good way to start!
It was a formidable group of competitors. Besides Blair the others were Chris Bostick from The Varnish, a good friend and monstrously talented bartender (who had Forrest Cokely as his proxy mixer-server, as he had to work that night); Zach Patterson from STK, also superb behind the stick; and someone I'd heard of but never met before, Jason Schiffer from a restaurant and bar in Seal Beach called 320 Main, and thanks to them you can get excellent Manhattans and Old Fashioneds in Orange County.
It was a lot of fun, and good experience. I'd wanted to enter a cocktail competition for a long time now, but they were either at bad times and/or filled with so many great bartenders that I would have had my ass handed to me in two seconds (which would be great experience, really), or else other competitions I thought about entering that I ended up getting asked to judge instead. That was very flattering, of course, and quite an honor, but I began to wonder how long it'd be before I could get myself into a competition which would actually accept my entry and in which I might have had a ghost of a chance. Local cocktail competitions tend to be made up of bartenders with exponentially greater skills than mine. I was over the moon to be a part of this one … although it was technically not a cocktail competition, actually, as the Bowl of Punch predated the cocktail by a couple of centuries.
There were originally six finalists but unfortunately one couldn't make it, so the five of us presented our punches to a paying and thirsty crowd of about 100 people at Malo. Here was mine: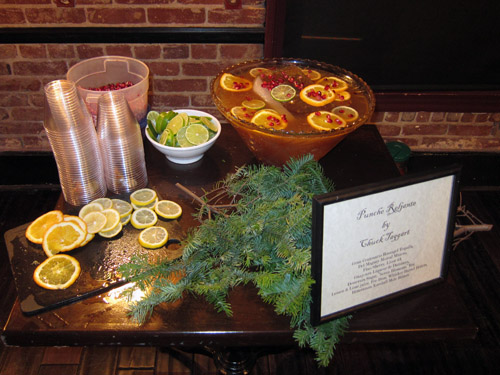 PONCHE RELAJANTE
("Relaxing Punch")

32 ounces Gran Centenario Rosangel tequila.
8 ounces Del Maguey Minero Mezcal.
8 ounces fino sherry.
1 cup Demerara sugar.
2 lemons and 4 limes (or enough for 1/2 cup juice from each)
6 ounces Guaycura Liqueur de Damiana
2 ounces Licor 43 (Cuarenta y Tres)
48 ounces (3 pints) Té de 7 Azahares (Mexican "7 Blossoms" herbal tea)
16 ounces water
35 dashes (about 1/2 oz) Bittermens Xocolatl Mole bitters
35 dashes (about 1/2 oz) Fee's Whiskey Barrel-Aged bitters
Lemon, lime and orange slices
Pomegranate seeds

Peel the lemons with a sharp vegetable peeler (zest only, no pith). Juice the fruit, strain the juice and measure until you have 1/2 cup each of lemon and lime juices for a total of 1 cup of citrus. Add the sugar to a punch bowl and muddle the lemon peels in the sugar until you've extracted the oils, and the sugar gets a bit wet and clumpy with lemon oil. Let that sit for a while if you have the time.

Add the tea and citrus, and stir until sugar is dissolved. Remove the peels with a slotted spoon. Add the spirits, sherry, liqueurs and bitters. Chill. Add a large block of ice (freezing a stainless steel bowl full of water works well). Garnish the punch and ice block with slices of lemon, lime and orange, and scattered pomegranate seeds.

Serve about a 4-ounce serving in a punch cup. Garnish each serving with a lime wheel and a spoonful of pomegranate seeds.

YIELD: 34 four-ounce servings.