Given that London is one of the world capitals for cocktail culture, as well as the capital of a country that makes some of the best beer in the world, one can drink very well in London indeed.
Having only one day in which to do it is beyond frustrating.
All in all, though, we did a fairly good job imbibing on our whopping one whirlwind day in London, culminating in some truly fabulous cocktails. Before all the tippling began, we started our day with a non-alcoholic beverage which was memorable enough not to get lost amidst all the ciders, beers, bitters, ales, porters, stouts and cocktails.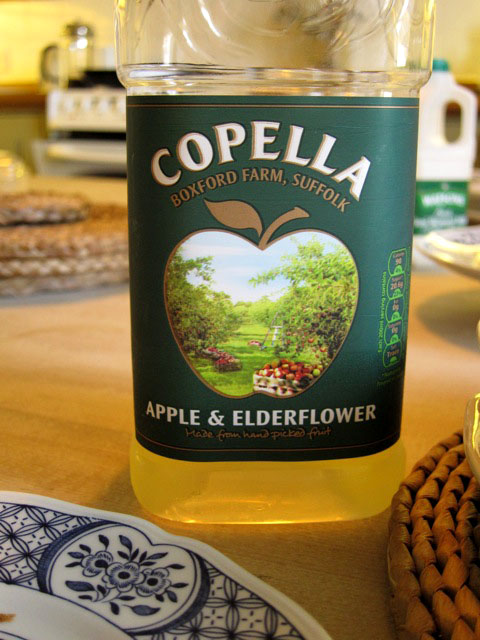 Fiona made us breakfast both mornings at Hampton Court (and for the next three days in Shropshire too!), and her breakfasts featured a wonderful product called Copella Apple & Elderflower Juice from Boxford Farm in Suffolk. Holy bejeebies, that stuff's good — fresh-pressed and filtered apple juice, not from concentrate, and very gently infused with elderflowers. It makes me want to get out the Laird's Straight Apple Brandy and St. Germain and start making cocktails. I now want this for breakfast every day, but it seems that I'll have to move to the U.K. to do it. Sigh. (You lot across the pond are lucky to have this!)
While we were omnomnomnomming on our bacon and sausage baps, pork belly butties, bits of black pudding and tastes of curries at Borough Market, we sampled another of the great British institutions — cider. Specifically, New Forest Cider from Hampshire, who had a lovely little shop in the market. Hard ciders these were, of course, in varying strengths and varieties, including the wonderful pear cider that's called "perry." As it was a bit nippy that day we had a hot mulled cider with cinnamon, cloves, nutmeg and allspice (oh boy), plus I sampled the perry as well. Wonderful stuff that, fairly hefty at 7% ABV, which can sneak up on you. Just a bit of a fizz, light and peary (perry!) and very refreshing.
We couldn't be in London without going to a pub, of course, and although I could spend days doing nothing but pubbing we kinda had to pick just one. John's first choice had closed for the afternoon, and then we found a fairly traditional place called The Mudlark, near London Bridge. Not the world's best but perfectly nice, a small inside with a much larger heated outdoor seating area, what looked to be quite good pub food (bangers and mash with a variety of local sausages available) and some truly excellent beers. The ones we had were all from Timothy Taylor, a Yorkshire brewery. John and Fiona had their Landlord Bitter, a strong pale ale. Wesly got an Autumn Brew by a brewery which escapes me (care to fill that in, Wes?), and I had another Taylor's brew, the Golden Best, an amber-coloured brew classified as a "mild." A bit lower in alcohol that what the others were drinking, nice citrusy notes and hoppy bitterness … yum.
Sadly, I didn't get pictures of any of the beer. Ah well. I guess I was too busy drinking it!
Whirlwinding around London the rest of the afternoon finally took us to the Connaught Hotel in Mayfair. One of London's nicest hotels, they've revamped their bars a few years back and are now one of the city's top cocktail destinations. Our gracious guide for the evening was our friend Jay Hepburn (cocktailian extraordinaire and author of the superb weblog Oh Gosh!). Of the hotel's two bars he suggested we meet at The Connaught Bar, and we did, only a few minutes late — highly uncharacteristic of us! Well, when cocktails are concerned, we can surely walk a little faster.
It's a beautiful space — a wonderful Art Deco look, gorgeous sparkly-silvery walls, mirrors all around, etched glass panels, a beautiful bar, very comfortable leather furniture in the booths and around the tables, and a pretty stunning cocktail menu. The main sections of the menu are "Revisited," featuring classic cocktails, often done with the Connaught's own twist; "Seasonal," featuring the best of what's in the markets now, and "Fusion," which is kind of anything-goes, old-meets-new, and the like.
Typically difficult choice when looking at a menu like this, but after some hemming and hawing I decided on my first drink, from the Seasonal section:
THE NJ SOUR

1 fresh fig
35ml applejack brandy (I'd recommend Laird's bonded)
10ml orange curaçao
10ml Averna amaro
20ml fresh lemon juice
15ml homemade pomegranate grenadine

Muddle the fruit and shake all the ingredients with ice. Double strain into an ice-filled Old Fashioned glass. Garnish with a dry lemon wheel.
Oh man … absolutely delicious! I'm kicking myself that I didn't do more with our wonderful Black Mission figs from our backyard (other than eat them) and that I didn't learn this drink while the tree was about to fall over with the weight of all our figs, because I would have made this a few times a week. Beautiful sweet fresh fig flavor, nice touch of bitter from the amaro, just enough balance in the sweet and sour, and very refreshing.